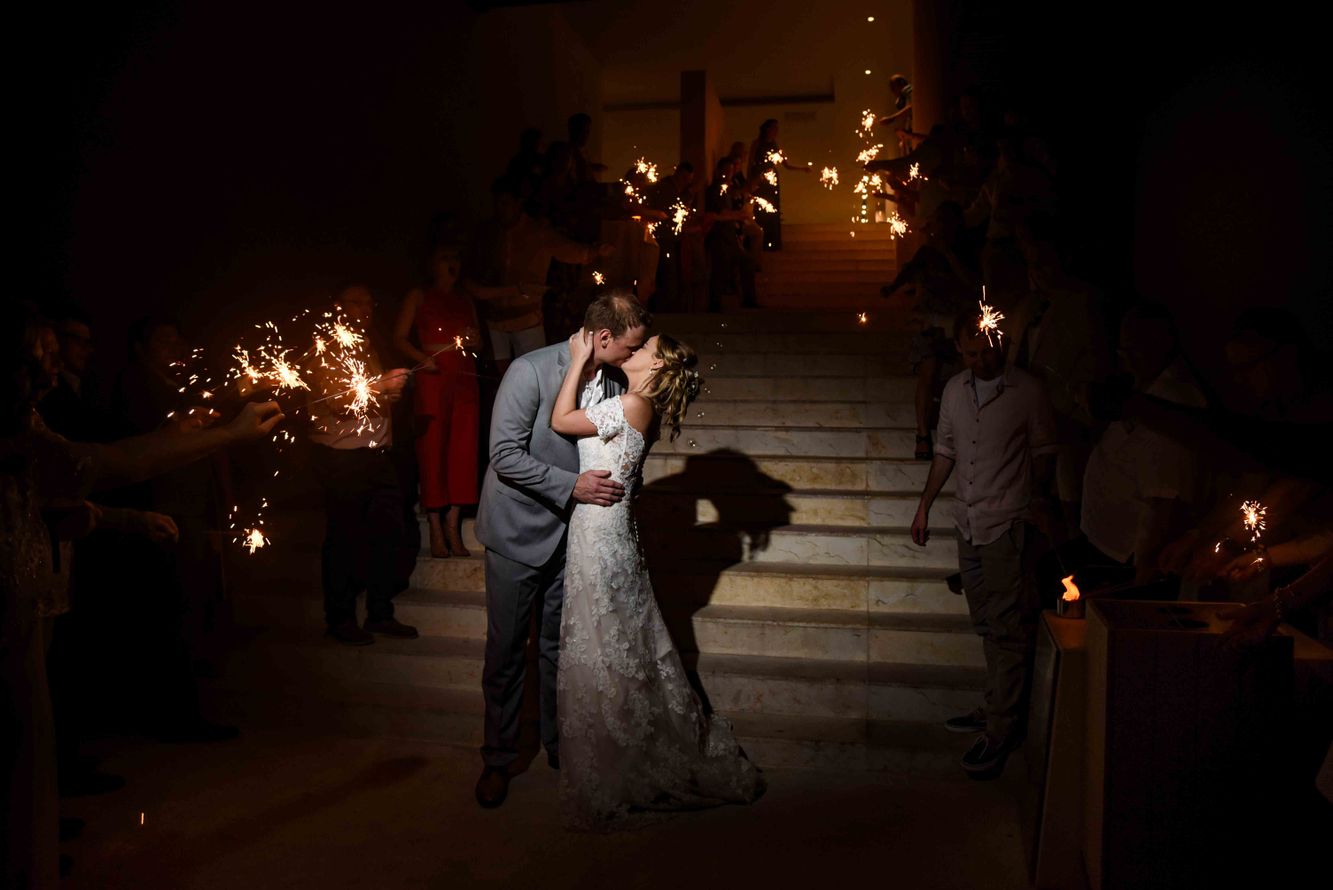 We are delighted to share the experience of one of our couples from Costa Mujeres, Mexico!

Lauren and Adam celebrated their wedding on the 15th of February 2020 on our property in Costa Mujeres, Mexico.
But, we'll let Lauren tell you all about it....

Tell us about your destination wedding celebration
in Grand Palladium Costa Mujeres Resort & Spa, Mexico.
We had 60 guests with a beach deck civil ceremony. We did the 'Bliss in Bloom Luxury' with the Party Lovers Deluxe. We started with hair and makeup at 12:30pm with getting ready pictures at 3pm. Then the ceremony was at 5pm. Ours was delayed a bit, but we were able to get started at 5:30pm. 5:30 - 6:00pm was the ceremony. 6:30 - 7:30pm was the Cocktail Hour on the Poseidon Deck. 7:30 - 11:30pm was the reception at Poseidon second floor.
Why did you choose to have a destination wedding celebration in general?
What were the important factors that you had to consider?
We both love the beach and wanted to celebrate more than just one day. I also had no desire to have to fully plan a wedding and so the options and ease of using a coordinator was what sold us on doing a destination wedding. Everyone has different factors, but for us we needed Kid-Friendly, lots of food options. The ability to get married outside overlooking the water, but not on the sand.
Why did you chose Grand Palladium Costa Mujeres Resort & Spa?
Why Mexico?
My travel coordinator suggested Grand Palladium Costa Mujeres Resort & Spa because it was a new resort and had all the options above that we really wanted. When I looked at the website I was so excited as the resort was massive, but still seemed very intimate. We choose Mexico because we love the beaches, the consistent weather as well as it only being a two and half hour flight for most of our guests.
You chose the 'Bliss in Bloom Luxury' Collection for your wedding celebration. Why?

I loved all the extra flowers that came with the collection. It was the upgraded chairs, and small details that really made our wedding exactly what we wanted. I never felt like I was having to sacrifice any level of detail with the collection which made the price and everything worth it.
How did you find the process selecting your wedding design?
At first it was overwhelming just getting started and seeing the options. But as you start exploring you realize they have thought of everything and so you can relax and just enjoy what ever collection speaks to you. With the Instagram and Pinterest boards, they make it very easy to show you from simple to super elaborate.
Who was your personal Wedding Coordinator with Weddings by Palladium?
How did you find our weddings team?
Our coordinator was Eunice. She was the most perfect coordinator. Very organized and timely updates. The entire wedding team from 'day of' was amazing.
What was one of your favourite moments / memories from your wedding celebration?
One of my favorite moments actually happened after the wedding. When Adam and I got back to our room we had a fuji film picture on our bed. It was the first picture we had been given for our wedding and I just was very overwhelmed with emotion when I saw it.
Describe your experience with our beauty team
in Zentropia Palladium Spa & Wellness.
I had 3 bridesmaids, 2 mothers and then myself. We all received hair and makeup and I can honestly say everyone's hair and makeup looked like perfection. I also heard mixed reviews about the Bridal Suit. So although you are not in the suit when you get ready (Think this should be explained more), it did make for some awesome pictures. Plus it was very cool. If you are in your room and wanting to take pictures outside on the patio, then the air condition will shut off. So for me I loved how cool temperature wise the room felt.
All photos by our on-site photographers, Romanza
---