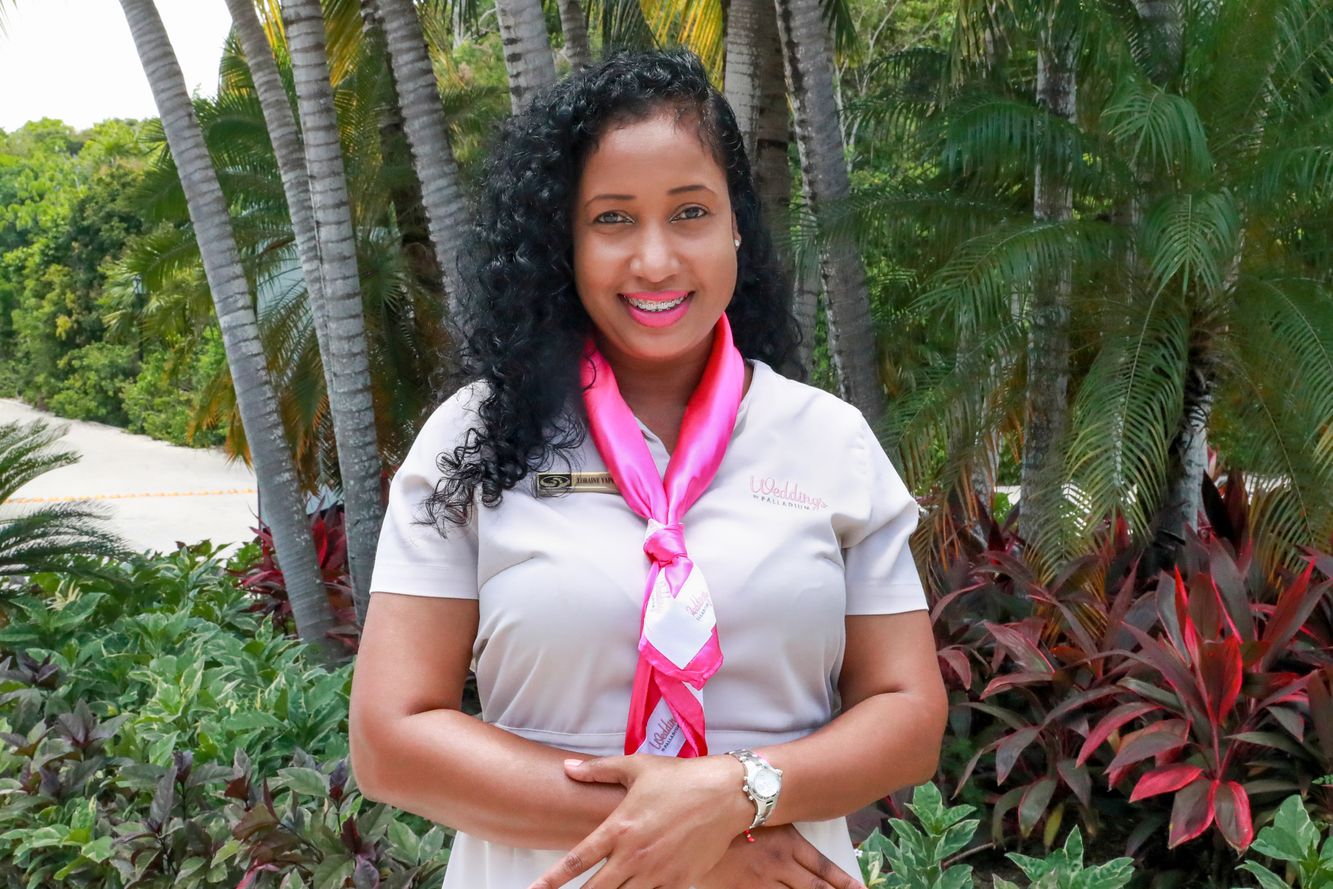 There is someone we want to introduce you to. We sat down and had a chat with our Weddings Manager in Jamaica.
So, can you tell us a little about yourself…?
I'm Loraine (aka SassyLor) from the city of Montego Bay here in Jamaica and I proudly wear the sash titled Wedding Manager at Grand Palladium Jamaica!
And how many weddings do you think you and your team have coordinated?
It would be a lifetime of weddings and cannot place a number to it – over a ton for sure! Currently in my team we have 13 wedding professionals - so, as you can imagine - that is a lot of wedding experience between us!
Tell us about your job… what do you love about it?
What I love most is that get to see all the happy faces of, not just the couple, but also their guests. For every wedding, my adrenaline is rushing because all the weddings are unique and should never feel the same. It's like the movie The Princess Diaries! hehehe! I'm all about the glitter and the glamour!


Which is your favourite from the Karen Bussen Wedding Collection?

I'm deep in love with Timeless - because it is chic, sophisticated and just pretty! Every bride wants to be beautiful and this collection will compliment her completely.

We can see that you really love your job! And what is a normal day for you?
Where do I start! A few core role includes reviewing the wedding events for the day, assessing our productivity, supporting the wedding coordinators and most importantly perfecting the weddings. An efficient team + a happy bridal couple = a happy life of a Wedding Manager.
What can a couple expect from your team in Jamaica?
They will be treated like royalty and pampered every step of the way. It sounds a little cheesy but think of us as your fairy godmothers - we all own and walk with a magic wand – turning the impossible, possible to make dreams come true! We take the time to get to know our wedding couples prior to their arrival. Which allows us to bring a personal touch to our services and allows us warm their hearts by fulfilling their needs.
And let's take it down to the basics - we are not afraid to brush sand off the feet our brides! And that sums up how important our wedding couples are and the level of service we aim to provide.
Tell us about an experience on the job that you will never forget…
I would choose a Jewish wedding that I coordinated a few years ago here. I'm still smiling about it, actually!
The couple visited us three times with their parents before their wedding to ensure that we knew and understood the wedding service that they were dreaming of. They wanted a complete The Great Gatsby themed wedding complimented with a 1920s New York banqueting service. We had never done this type of wedding before, but they had faith in me and the resort. At first it seemed a little impossible but we topped it A+ and the whole bridal party were satisfied! I wish every wedding planner could have had this once in a lifetime opportunity to be a part of a celebration like that.
What is your favourite wedding venue in Jamaica and why?
The Garden Gazebo, for sure. This is just a magical fairytale space that takes your breath away! You are swayed away on a cliff in which your canvas is painted with a beautiful rustic, tropical, bohemian setting. The backdrop of the ocean captivates your full attention and you get lost in paradise for sure. This Garden Gazebo is second to none in the world and it is a pot of gold - a treasure for a lifetime! If I don't say so myself…


Why would you recommend Jamaica and Grand Palladium Jamaica for a destination wedding?
We host the BEST vow spaces in the world, BEST beaches, BEST food, BEST wedding professionals and have a wealth of experience in making wedding dreams come true.
---
For more information on Jamaica contact:
infoweddings.jamaica@palladiumweddings.com
Toll-Free Number from USA/Canada: 1 (888) 442-3127
Number from within Jamaica: Tel: + 1 876 6190000 Ext. 8251