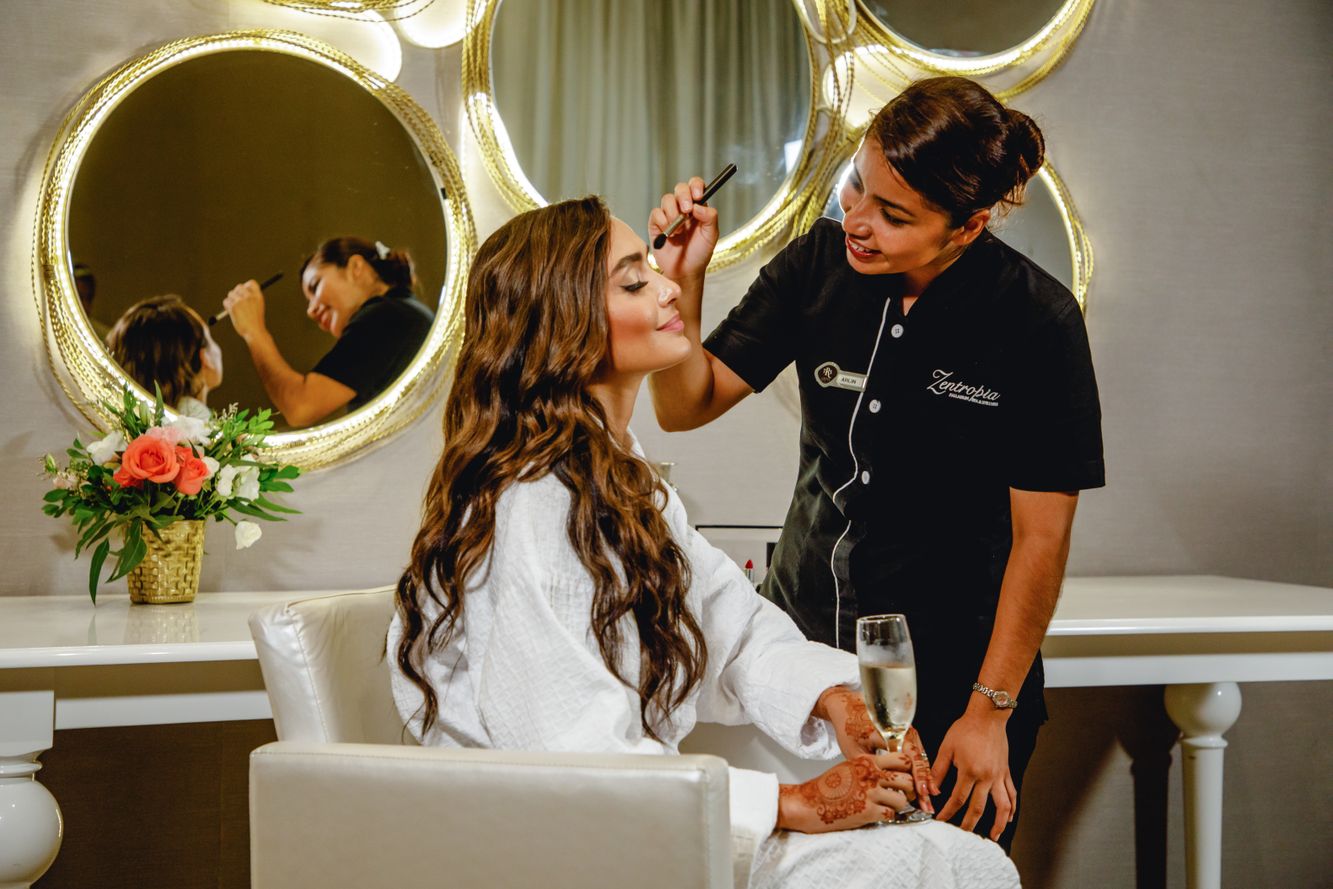 Zentropia Palladium Spa & Wellness is here to make you feel fabulous on the most important day in your life.
In all our of wedding destinations you will find the wondrous Zentropia Palladium Spa & Wellness centres for your convenience. Each centre offers special wedding packages for brides (or grooms) for their wedding celebrations. These packages are designed to cover all the needs you may have before your wedding, as well as of those you love most.
Are you celebrating in Grand Palladium Costa Mujeres Resort & Spa or in TRS Coral Hotel in Costa Mujeres, Cancun Mexico? Let's go through your options with Zentropia Palladium Spa & Wellness...


PACKAGES

BEAUTY TIME $409 USD
Our most popular package to make you look flawless! Beautiful nails, soft feet and a gorgeous hairstyle for you to be picture perfect. (Btw, we recommend having our nail treatments the day prior to the wedding. That's not a problem.)
- Manicure Luxury Zentropia
- Pedicure Luxury Zentropia
- Personalised Hairstyling
- Makeup with Airbrush or MAC
- Glowing Vitamin C Facial
JUST MARRIED
$399 USD
This package is specially designed to cover all your needs as a couple and make you both look fantastic and feel pampered.
- Couple Body Wrap
- Couple Relaxing Massage
- Sparkling Wine & Chocolate Covered Strawberries
- Jacuzzi Time

GLAMOUR $299 USD
All brides want to look stunning on their wedding day from head to toe! Show off your soft hands and feet with beautiful nails for your big day.
- Zentropia Manicure
- Zentropia Pedicure
- Personalised Hairstyling
- MAC Makeup



RADIANCE
$299 USD
The perfect package to shake off those nerves before the big event, with a a radiant look to wow everyone.
- Firming Eye Mask
- Personalised Hairstyling




BRIDAL SUITE
In our resort, you're VIP! ... every VIP deserves their own private space! That is why each wedding package at Zentropia includes the usage of our Bridal Suite for you (the bride) and 7 other guests (8 in total) to get ready and enjoy the day of your wedding. And, you will also have access to the Hydrotherapy Circuit and a surprise amenity!
Or even if you decide to not go with a package from Zentropia, you and your bridal party can still use this fabulous space for a charge $85 USD.

Terms and conditions apply, of course.
---
For more information on Costa Mujeres, Mexico contact:
infoweddings.costamujeres@palladiumweddings.com
Toll-Free Number from USA/Canada: 1 (800) 349-6829
Number within Mexico: + 52 1 998 868 5200 Ext. 88161