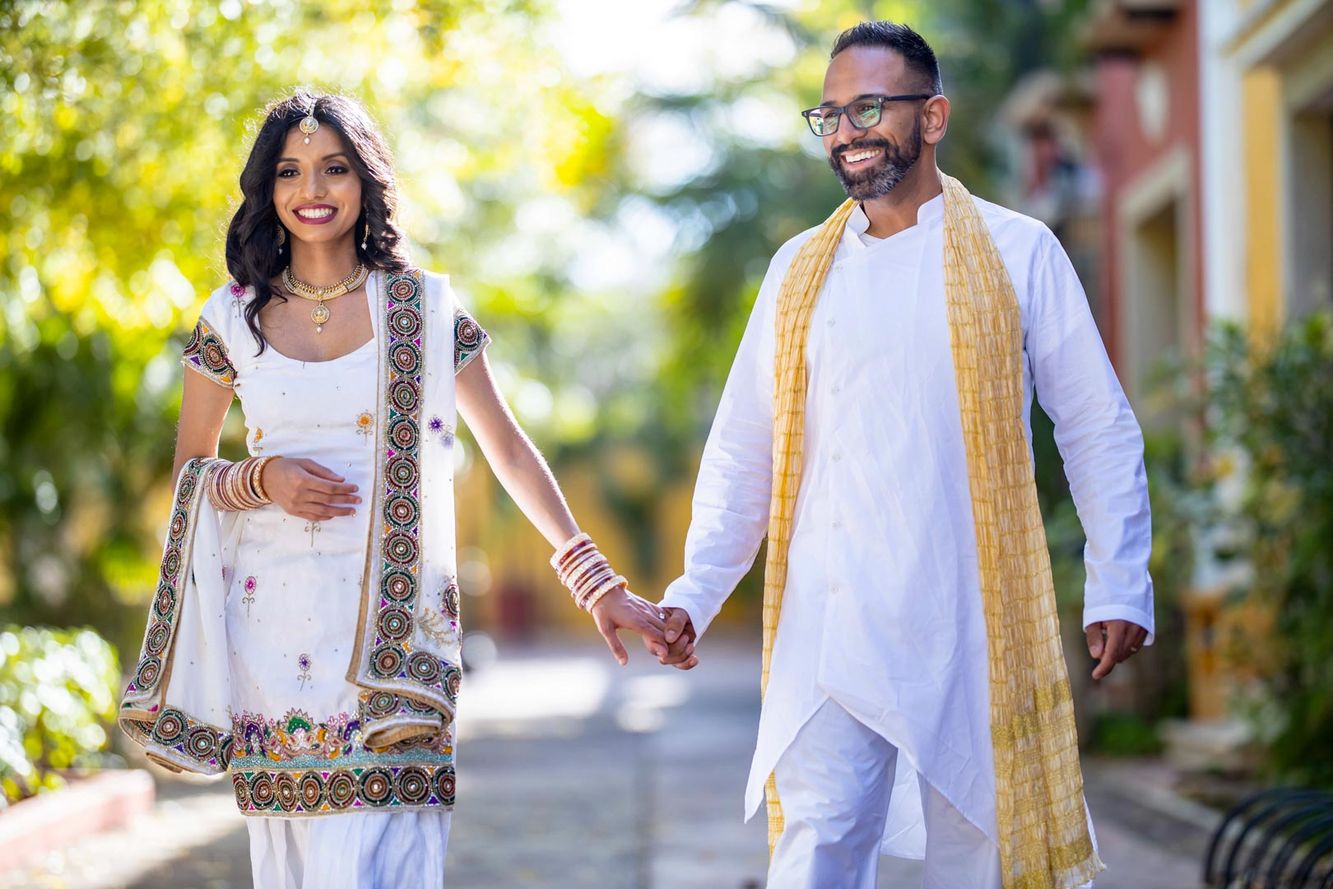 WE ARE DELIGHTED TO SHARE THE EXPERIENCE OF ONE OF OUR COUPLES IN COSTA MUJERES, MEXICO!

NAVDEEP AND DANIEL CELEBRATED THEIR WEDDING IN EARLY MARCH 2020...
AND WE ARE ASKED THEM A FEW QUESTIONS ABOUT IT.
1. Tell us about your destination wedding celebration with Weddings by Palladium at Grand Palladium Costa Mujeres Resort & Spa, Mexico.
Our destination wedding took place from March 6 - 8, there were about 75 people, we had the Mehndi dinner on Friday night, Holi at the beach on Saturday morning, Sangeet on Saturday evening, wedding on Sunday morning, and the reception on Sunday evening.
2. Why did you choose to have a destination wedding celebration in general?
We wanted our wedding to be different than any other wedding we had been to. Daniel and I love spending time at all inclusive resorts in the Caribbean, so we wanted to give our friends and family an opportunity to experience the Caribbean as well because we knew they would enjoy it as much as we do. We also wanted to get them out of their hometowns and make a vacation out of our wedding.
3. Why did you chose Grand Palladium Costa Mujeres? Why Mexico?
We chose Grand Palladium Costa Mujeres because it is a beautiful and new resort, the service that we received from the wedding department was better than any other resort that we contacted while we were shopping for resorts last year, the beach at Grand Palladium was cleaner than other resorts we looked at, and GP has done many Indian weddings in the past so they were familiar with the traditions and very accommodating with our needs.
We chose Mexico because it is easy to get to from the U.S. and the food here is amazing.
4. You chose the 'Shaadi Royal Bliss' Package for your wedding celebration. Why? What did you love about it?
We chose this package because it was cost effective and it gave us the freedom to customize our entertainment and decor according to our preferences. It also helped us save a lot of time because all the necessary items were included in the package.
5. How did you find the process selecting your wedding design?
The 'Shaadi Royal Bliss' package made it very easy to select our wedding design. We wanted the decor to be easy but we focused more on entertainment. The external vendors were very accommodating and easy to work with. Having Eunice be the intermediary between us and the vendors helped a lot.
6. Who was your personal Wedding Coordinator with Weddings by Palladium? How did you find our weddings team?
Our personal wedding coordinator was Eunice Bravo, and she was very helpful and responsive to all our inquiries. Having her as our Wedding Coordinator took a lot of the wedding planning stress off our shoulders.
7. What was one of your favorite moments or events from your celebration?
It's hard to pick one favorite moment, but I would say the Holi party was something that everyone enjoyed and experienced for the first time.
8. Who was your henna artist? How did you find the process of working these services in a different destination?
Lotto Mehndi was our henna vendor and the owner of the Lotto Mehndi was our henna artist. Working with them was a very pleasant experience.
Photography: PTaufiq Photography
Travel: Shaadi Destinations⁣
Venue: Grand Palladium Costa Mujeres Resort & Spa + Weddings by Palladium
Mehndi: Loto Mehndi⁣
Decor: Zuniga Event Design & Production Co
Priest: Bernardo Soriano⁣
---