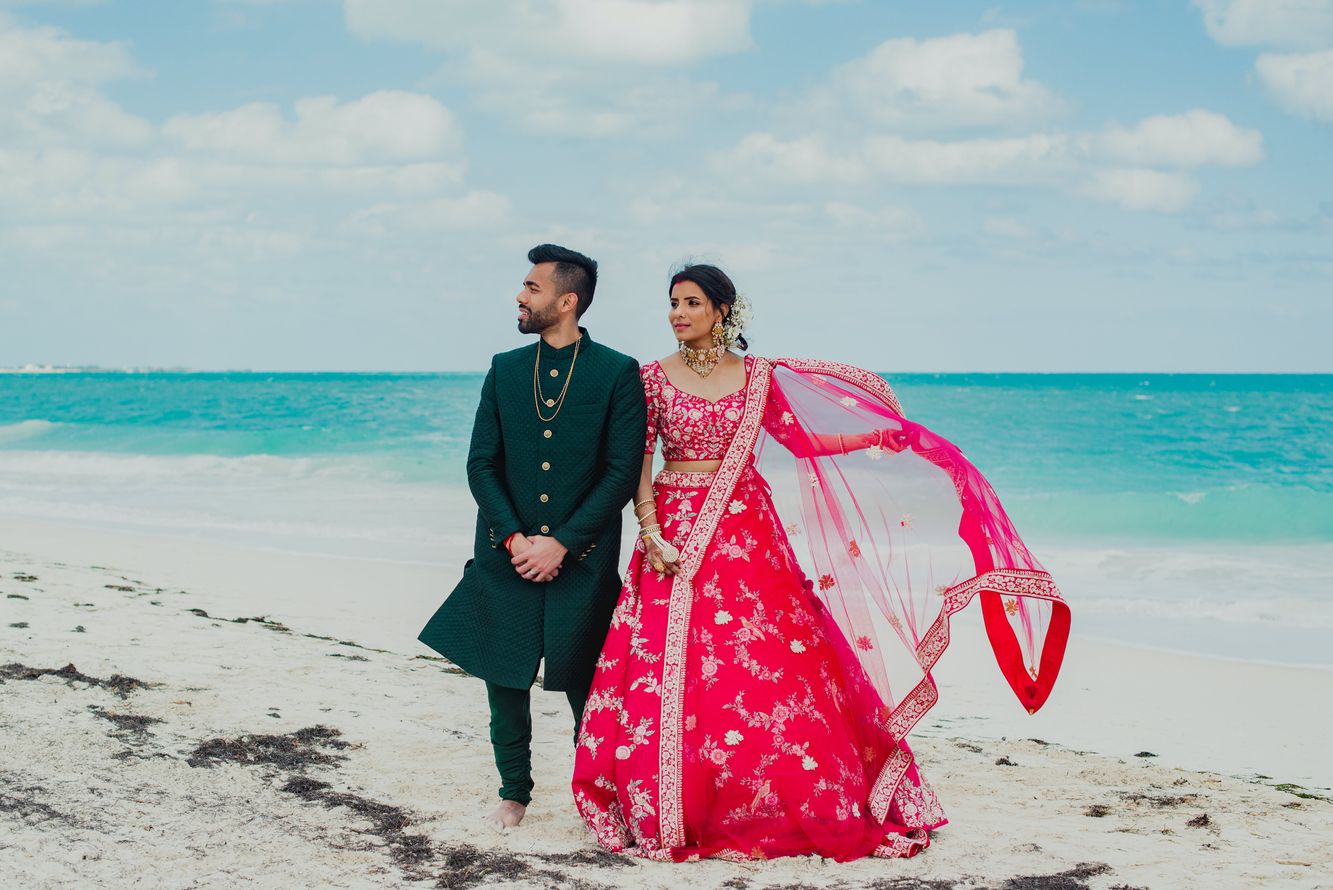 We are delighted to share the experience of one of our couples in Costa Mujeres, Mexico!

Karishma and Harsh celebrated their wedding in February 2020...
and we are asked them a few questions about it.

Tell us about your destination wedding celebration
in Grand Palladium Costa Mujeres Resort & Spa, Mexico.
We had a small group of 35 guests. We had a Hindu wedding. In addition to the Hindu Wedding, we had a mehndi night for bride, mehndi night for guests, and cocktail reception.

The main events – Wedding and Reception were on the same day – wedding mid-morning and cocktail reception in the evening.
Why did you choose to have a destination wedding celebration in general?
What were the important factors that you had to consider?
We wanted a wedding with close group of people and wanted to be able to spend time with everyone. Destination wedding is perfect in the sense where we had a mini vacation with family and friends and also had our wedding in a scenic location.


With the pandemic going on and travel being banned, we got lucky with the timing of our wedding. Being unable to go on more vacations, our friends and family are cherishing their memories from our wedding getaway and they are glad they could be a part of it.
Why did you chose Grand Palladium Costa Mujeres Resort & Spa?
Why Mexico?
Grand Palladium Costa Mujeres is a beautiful stunning resort, giving the perfect beach vibes with modern amenities. The reason we chose this resort was because they are newly established and the event spaces were more appealing. They have their own river and our hearts were set on a Boat ride Baraat ceremony, one of a kind.

A lot of places in Mexico are very well established to host south Asian weddings. It has ideal weather for outdoor events, unlimited views of the sea and bottomless tacos. So it was an easy choice.
What was your inspiration for the design, style and mood of your wedding decor?

We wanted a beach theme Indian wedding with blush undertones. We waned the elements of nature to speak for the décor, hence we played less with flowers. No horses for the baraat of course. Our Reception was Rustic and Boho-chic with Bistro lights and Pampas and no fireworks.
How did you find the process selecting your wedding design? How did you find working with external vendors?
I did a lot of search on Pinterest and other sites to draw inspiration. Design and creativity is something I enjoy so it was definitely fun process for me. My focus was to have minimum décor but at the same keep it versatile, and so I was able to reuse some of the wedding décor in reception.


It was great working with Zuniga, their gave a good idea of décor items we could work with and they were prompt with their services. They made some my visions came into reality and we are so grateful for that.
Who was your personal Wedding Coordinator with Weddings by Palladium?
How did you find our weddings team?
Eunice was our personal wedding coordinator with Weddings by Palladium. I am very detail oriented and my husband is keen on logistics making sure everting runs smoothly. Even though we had a smaller crowd, we had to plan the entire wedding and mark everything off the checklist. We definitely were anxious in the beginning when we started planning, as we didn't know anyone who went through this process.
Fortunately, we were lucky to have Eunice. She is super organized, a great communicator and all always provided input at every step. She is well experienced with Hindu Weddings and was able to guide us with cultural ideas. She took the time to get to know us as a couple, our families and our inspiration for the wedding. It's that attention to detail that makes her such a talented wedding coordinator. She was always several steps ahead and planned accordingly to be ready for any situation.


Leading up to our wedding we met with the entire wedding team and discussed our last minute ideas. It was a busy day but nice to meet everyone. On the day of the wedding, everything went off without a hitch. Eunice and her team had directed our vendors and set up everything, including the centerpieces, dessert table and decorations. For the rest of the time, we were able to enjoy being with our loved ones because Eunice made sure that everything was taken care of. She anticipated our needs fully and executed flawlessly. So, thank you once again.
What was one of your favourite moments / memories from your wedding celebration?
Bride: "My favorite part was the reception. Everything so far was beyond perfect and I took the night to celebrate with my loved ones by the beach."


Groom: "My favorite part was seeing this speculator colored Mandap, which my wife dreamed of, on the beach and eventually getting married on it. So unique!"
Who was your henna artist?
Gabi from Loto Mehndi was my Henna artist. She is extremely talented and passionate about her work. She is well versed with Henna artistry and creates flawless intricate mehndi designs, better than artists I have worked with in India. Her ingredients are clean, pure and she is the best in all of Mexico.
We had a nice chat during our mehndi and I learned a lot about her life, other her talents and her entrepreneurship. It was absolute delight working with her.
Planning/Travel: Shaadi Destinations⁣
Venue: Grand Palladium Costa Mujeres Resort & Spa + Weddings by Palladium
Photographers: Romanza, The Memory Writers
Mehndi: Loto Mehndi⁣
Decor: Zuniga Event Design & Production Co
Make Up: Sara Tamargo Makeup and Hair
Catering: Patravali Cancun⁣
Cake: Lluvia de Azucar⁣
Priest: Bernardo Soriano⁣
Bridal Outfit: Asiana Couture
Bridal Jewelry: Purabp Aschim⁣
---