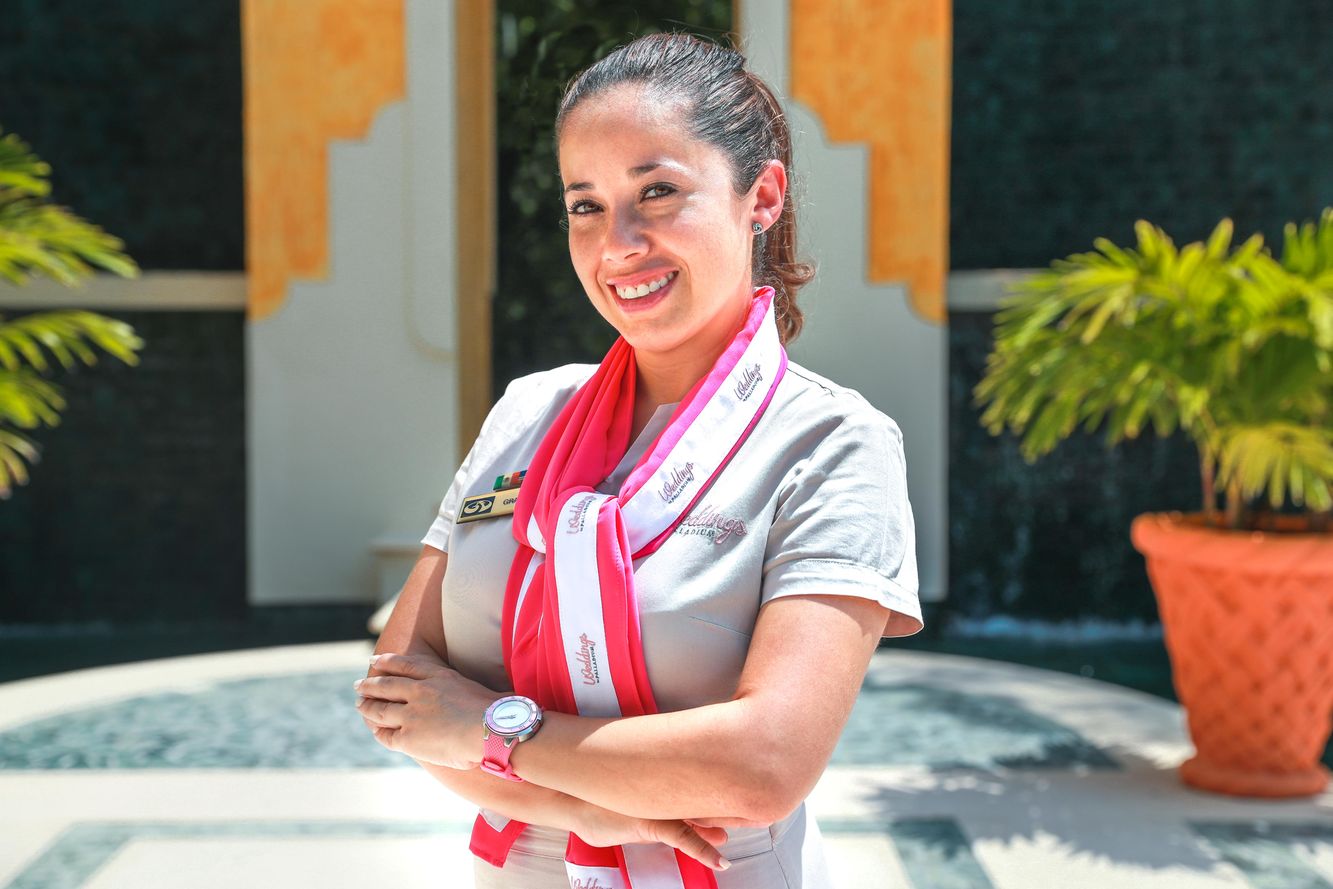 There is someone we'd like you to meet. We sat down and had a chat with one of our wedding planners in Riviera Maya, Mexico.


Hey there! Tell us a little about yourself…
My name is Graciela, but I prefer to be called Grace - I think it's just shorter and easier to pronounce. Many times I am called Gabriela and I hate it! Hehe!
I'm originally from Mexico City and I am the Weddings Manager in the Riviera Maya. Part of my duties ensure that my team is fulfilling the dreams of each couple with adequate supervision and focus on the values of our company, Weddings by Palladium.

Grace with some members of her team in the front of the weddings office in Riviera Maya.
How long have you been with Weddings by Palladium?
I have been working with Weddings by Palladium for 9 years and throughout my time I have planned more than 400 weddings! Each wedding has left me with an unforgettable experience and the best thing is that the dreams of all our guests have come true.

It sounds like you love your job! Why exactly?
My work is something fundamental to my life. In my position, I am learning every day. And the best thing about my work is that there is never time to get bored!

Grace helping a bride with her dress in Riviera Maya.
Tell us about a moment on the job that stayed with you.
One of my most emotional moments that I have had is when I coordinated a wedding for the couple, and they asked me be part of their first family. The fact that they considered me like a member of their family on their wedding day made me cry.
Has a bride ever asked for something unusual?
Once a bride asked that we put the fish in the pond in a fish tank as a centerpiece for the reception of her party!
Do you have a favourite from the Karen Bussen Wedding Collection?
My favorite package is the Waves of Love collection. I love the colors, and the style it has of the stars and seashells. My favorite accessory is the stars. For me the stars are a symbol of peace and harmony.

Waves of Love Luxury in TRS Yucatan Hotel, Rivera Maya.
So, why would you recommend a destination wedding?
For me a destination wedding is a way to unite family and friends, not only to enjoy that unforgettable moment but also for each of the guests to enjoy themselves in that destination. Plus, destination weddings are usually less stressful and with more places and locations to visit and explore.
You're based in Riviera Maya, Mexico. Why should a couple get married there?
Riviera Maya is magical and enriched by its nature, enjoying beautiful landscapes and the Mexican culture that characterizes this paradise. Not only for the union of your commitment, but also to have an experience and enrich yourself in beautiful places for the story of your lifetime.
---
For more information on Riviera Maya, Mexico contact:
infoweddings.riviera@palladiumweddings.com
Toll-Free Number from USA/Canada: 1 (800) 246-3461
Number within Mexico: Tel: +52 9848 772100 Ext. 8111