YOU HAD TO CHANGE YOUR WEDDING DATE BECAUSE OF CORONAVIRUS: HOW TO MARK THE OCCASION OF YOUR 'FIRST (WEDDING) DATE'
Written by Karen Bussen
Entertaining Expert
You've dreamed about this day. Your beloved asked you to marry them, and you said yes! You told family and friends and you jumped for joy. Then you researched and planned and made detailed arrangements. You settled on a fabulous destination wedding by the sea. You may have even sent a save-the-date or (and!) an invitation. And then: COVID-19, the biggest, most awful wedding crasher of all, came out of nowhere.
Created with Paperless Post
What could you do? You had to change your plans. And you're not alone. Emma Stone, Katy Perry, Princess Beatrice, and even J-Lo (!) had to reschedule their nuptials this year because of coronavirus. So you picked yourself up, dusted yourself off (then washed your hands!), and decided to be flexible. But all joking aside, before anything, this needs to be said: I'm truly sorry for the loss of your first wedding date. I know that choosing a date to marry the person you love is one of the most exciting parts of wedding planning.
Rebecca + David, TRS Yucatan Hotel, Riviera Maya, Mexico by Julie Roman Photography
Some dates are selected for sentimental reasons--maybe you chose your anniversary, or your parents' wedding anniversary, or a date that has been deemed auspicious, or just one with cool numbers. We produced a fabulous wedding on February 22 this year, and I thought that was an awesome date for two reasons. First, it's filled with pairs of twos, which I find romantic. And second, when you write it out numerically, it's a palindrome because it reads the same from front to back and back to front -- 02.22.20.
That being said, I wanted to take a moment to acknowledge that changing a wedding date can feel disorienting, almost like a loss. So I've come up with some ideas for how you can celebrate your "original" wedding date now, while transitioning to your amazing new date with style and substance. Here goes--let us know in the comments if you try any of these, or if you've designed your own "First (Wedding) Date" celebration.

Anish + Heena, Grand Palladium Costa Mujeres Resort & Spa, Cancun, Mexico by Lunic Photography
IF YOU'RE QUARANTINING WITH YOUR SPOUSE-TO-BE ON YOUR 'FIRST DATE'
Do it up chez vous. If you can't be with friends and family, you can still celebrate your love one-on-one. Order in fancy dinner. Find some great candles online and set the scene. Get dressed up. Decorate a beautiful table and before you sit down, take some time to write a list of reasons you love your partner. Have them do the same, and exchange lists or read them out loud while your favorite music plays.
Host a WFH toast online. Yep, that's Wedding from Home! Style up a cute Zoom background, wear a birdcage veil you order off Etsy or a cute (but comfy!) white pantsuit like this one. Send out an invite to friends and family or your bridal party via email (or Paperless Post, where you can paste in your Google Hangout or Zoom link) and ask everyone to bring a glass of champagne (or a Quarantini) so they can toast your love.
IF YOU WANT A CHANCE TO SAY GOODBYE TO THE OLD DATE
Hold a "Change the Date" ceremony. Sometimes letting go formally can be really helpful to moving forward and getting excited about your new date. So create a moment to mark the transition. You know the way you probably announced your engagement, with a series of photos or a short video? Same applies here. Write your First Date and your new Wedding Date on two pieces of paper.

Either at home or outside over your fire pit, acknowledge the loss and say goodbye to your First Date. Take a moment to remember that you're so grateful for finding the love of your life, and that you are so happy to be planning a wedding. Thank that original date for making you happy. Then tear or burn the paper to recognize the change. Hold up your new paper with your Wedding Date on it, and take a Couple Selfie while smiling genuinely. After all, you're gonna have a wedding, you two gorgeous people!
IF YOU ALWAYS WANT TO KEEP YOUR FIRST DATE AS A SPECIAL DAY
Start a First Date tradition. If you ask me, you can never have too many happy dates to celebrate on the calendar of your life as a couple. You don't have to let your original wedding date go. What if you marked your First Date every year as a special occasion? You could go on a hike to your favorite outdoor spot, have a movie-fest, or exchange gifts. You could make a donation to a cause that means a lot to you both. Heck, you could order a tiny First Date cake with extra frosting and eat it for breakfast in bed every year on that date.
---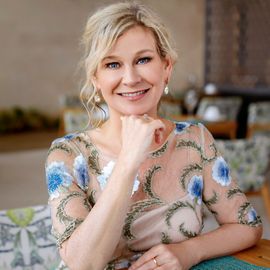 Karen Bussen is an internationally known party guru with a roster of private clients from the worlds of business, society and entertainment. As the exclusive designer for Weddings by Palladium, she believes in giving couples a palette of fabulous possibilities and all the flexibility they want to tell their own unique love stories in their own way.